Here are the best T20 innings of the 2021 calendar year: T20 enthusiasts have had a pretty good year in 2021. The ICC T20 World Cup 2021, which was supposed to take place last year, actually took place in 2021 in Dubai. The team India played only two T20 series vs England and Sri Lanka, while Australia toured Bangladesh and New Zealand for the shorter format.
Following the ICC T20 World Cup 2021, Pakistan Cricket Team played the T20 series against South Africa and West Indies. This year's T20 matches were full of intrigue for the fans. Mohammad Rizwan, Pakistan's wicket-keeper batsman, was the standout batsman in the shortest format. He has 1326 runs at an average of 73.66 in 29 T20 internationals.
Furthermore, batsmen like Mohammad Rizwan, Babar Azam, Martin Guptill, Mitchell Marsh, and Jos Buttler had an outstanding year in the shortest format. As the year 2021 comes to an end, we look back at the top five best T20 innings of 2021.
Top 5 Best T20 Innings Of 2021 | Most Runs In T20 2021.
| Ranking | Player Name | Team/Country | Matches | Innings | Runs | Highest Score | 100s | 50s | Avg |
| --- | --- | --- | --- | --- | --- | --- | --- | --- | --- |
| 1 | Mohammad Rizwan | Pakistan | 29 | 26 | 1326 | 104* | 1 | 12 | 73.67 |
| 2 | Babar Azam | Pakistan | 29 | 26 | 939 | 122 | 1 | 9 | 37.56 |
| 3 | M J Guptill | New Zealand | 18 | 18 | 678 | 97 | 0 | 5 | 37.67 |
| 4 | M R Marsh | Australia | 21 | 20 | 627 | 77* | 0 | 6 | 36.88 |
| 5 | J C Buttler | England | 14 | 14 | 589 | 101* | 1 | 5 | 65.44 |
most runs in t20 2021
List Of Top 5 Best T20 Innings Of 2021 From Mitchell Marsh To Devon Conway.
5. Mitchell Marsh (AUS): 77 off 50 Vs New Zealand In ICC T20 World Cup Final 2021.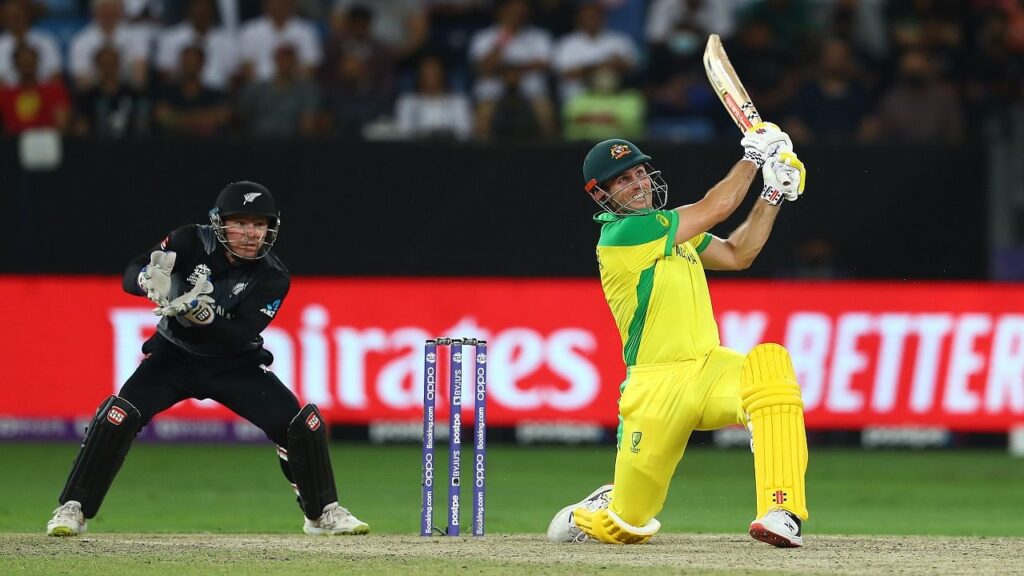 The Australian all-rounder demolished New Zealand's T20 World Cup hopes by outclassing Kane Willaimson's knock in the final of the ICC T20 World Cup 2021. Mitchell Marsh walked out to bat after Australia had lost Arron Finch in the third over of the innings in pursuit of the 172-run total in the final. He came out with the intention of tearing the opposition apart with his brutal power. Adam Milne hit his first ball to deep backward square leg for a six. The two deliveries after that were also sent to the boundary ropes. He hit boundaries against every bowler he faced and finished unbeaten on 77 off 50 balls. Mitchell Marsh's knock should go down as one of the greatest in T20 World Cup history. His match-winning knock helped Australia's chase of 173 in 18.5 overs. As a result, Australia won their first ICC T20 World Cup.
4. Kane Williamson (NZ): 85 off 48 Vs Australia In ICC T20 World Cup Final 2021.
Kane Williamson, the captain of the New Zealand Cricket Team, stepped up with the bat once more when it was most needed. New Zealand competed in the ICC T20 World Cup 2021 final. They didn't get off to a good start, as the in-form Daryl Mitchell was out in the fourth over of the game.
Kane Williamson, the skipper, kept a close eye on things during the first half of the game. He struggled to get going, scoring 18 runs off 19 balls. However, in the second half of the inning, he changed gears most intriguingly. Kane Williamson then scored 51 runs in his next 20 deliveries, propelling the team to a competitive 171-run total in 20 overs. He finished his innings with 85 off 48 deliveries, a knock that included 10 fours and three sixes. Unfortunately, his knock was in vain as New Zealand lost the tournament final by 8 wickets.
3. Mohammad Rizwan (PAK): 79 off 55 Vs India In ICC T20 World Cup 2021, 16th Match.
On October 24, Pakistan and India began their ICC T20 World Cup 2021 campaign against each other in the 16th match. The Pakistan Cricket Team bowled exceptionally well in the first innings, limiting India to 151 runs. Babar Azam and his squad needed a strong start to win the match and thus begin their campaign on a high note. Mohammad Rizwan and Babar Azam got the team off to a flying start, much to the delight of the fans. Mohammad Rizwan appeared to be in good form with the bat. He wasn't about to give India a chance to get back into the game. Pakistani batsmen sent all bad balls to the boundary ropes and continued to take singles and doubles to prevent India from putting pressure on them.
Mohammad Rizwan played an unbeaten 79-run knock-off 55 balls to help Pakistan chase the target on the board in just 17.5 overs. Pakistan also ended India's unbeaten streak against them in ICC tournaments. Mohammad Rizwan's matured knock is without a doubt one of the most remarkable T20 knocks of all time.
2. Virat Kohli (IND): 80 off 52 Vs England, 5th T20I.
In March, England toured India for a five-match T20 series. Throughout the series, the home team experimented with various opening combinations. Virat Kohli was promoted to open the innings alongside Rohit Sharma in the fifth and final T20I. Batting first, the pair put on a sensational 94-run stand in just 9 overs. Rohit Sharma walked away but Virat Kohli carried on alone and he didn't allow England to get back into the game. During his knock, Virat Kohli looked magnificent. Virat Kohli's strike rate was 153.85 and scored an unbeaten 80-run knock-off 52 balls, including seven fours and two sixes. His knock contributed to India's massive 224-run total on the board, which was also their highest-ever total against England. India won that game by 36 runs and the series by 3-2.
1. Devon Conway (NZ): 99 off 59 Vs Australia In First T20I.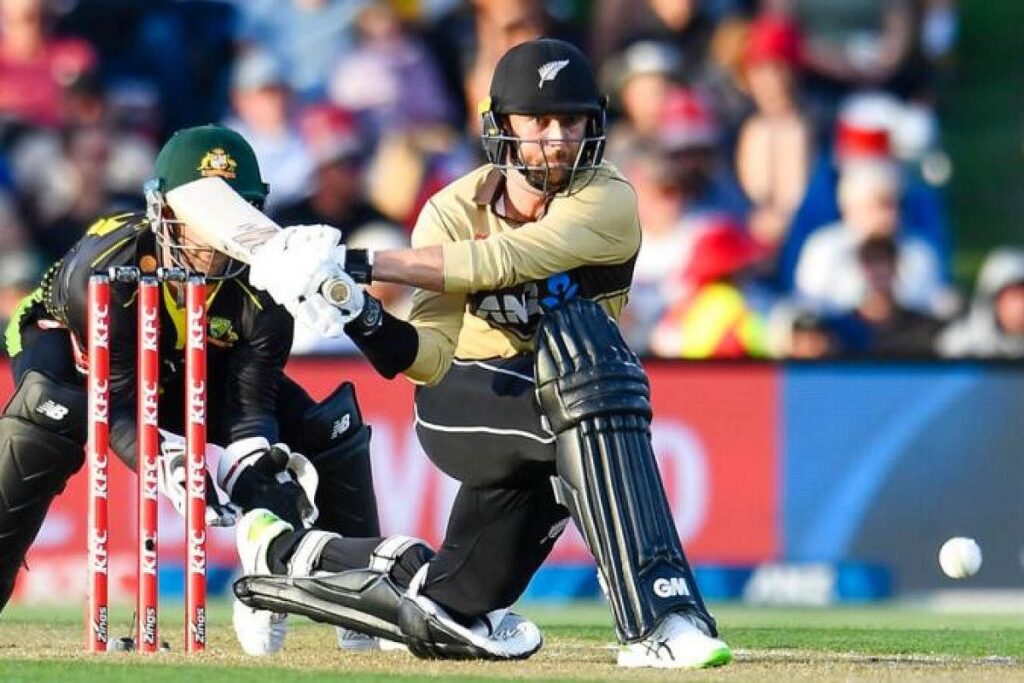 Devon Conway rose to prominence in international cricket in 2021. Devon Conway ripped apart Australia's bowling unit in his first T20 international against Australia and sixth overall in the first of a five-match T20 series at Hagley Oval. He walked out to bat with New Zealand in dire straits. Devon Conway had a huge responsibility on his shoulders after going 11 for 2 and 19 for 3 down. He then stitched together a crucial 74-run partnership with Glenn Phillips to help New Zealand get back into the game. Glenn Phillips was out in the 13th over, but Devon Conway continued to bat until the end. He played a 99-run knock-off 59 balls, pushing the team to a commanding 184-run total at the end of the first innings. Conway's unbeaten innings included 10 fours and three sixes. New Zealand went on to win the game by 53 runs.
Conclusion
This article is based on the top 5 best T20 innings of 2021, and it has been updated with statistics from ESPNcricinfo.com's official 2021 updates. We hope you enjoyed our article; please feel free to share your valuable thoughts in the comments section; we value your feedback. The information on this page is subject to change at any time without notice. Our website makes no guarantees about the accuracy of the information.