Mayank Agarwal, India's most promising opening batsman, has wowed cricket fans with his batting prowess on numerous occasions. From his achievements in the Indian Premier League to his gutsy knocks for the Indian cricket team in the longer format, the 30-year-old has received widespread acclaim for his outstanding batsmanship. Mayank Agarwal's net worth is $5 Million (INR 36.70 Crore) According to various sports news reports. Contracts with the BCCI, IPL salaries, and brand endorsements increase his net worth. Mayank is a member of the Indian National Cricket team's Grade B squad. Agarwal has joined Fast&Up as a brand ambassador. He earns about INR 3 crores per year and so far he has earned INR 10.70 crores from IPL.
Mayank Agarwal Net Worth, Early Life & Bio.
Name
Mayank Agarwal
Date Of Birth
February 16, 1991
Profession
Cricketer
Spouse/Wife
Aashita Sood
Net Worth (2021)
$5 Million
Indian Rupees
36.70 Crore
Per Match Salary
Test Cricket – 15.3 Lakh
ODI – 6.5 Lakh
T20I – 3.2 Lakh
Monthly Income
INR 40 Lakhs +
Annual Income
INR 5-6 Crore +
Money Factors
Indian Cricket Team, IPL, Brand Endorsements & Domestic Cricket.
Last Updated
2021
Mayank Agarwal was born in Bengaluru, Karnataka on February 16, 1991. He completed his primary and secondary education in Bengaluru. M.Agarwal passed high school and intermediate education from Bishop Cotton Boys' School and then enrolled in Jain University, Bengaluru for his graduation.
Bengaluru is one of India's most important sports hubs. Some of the legends who have trained in Bengaluru include Anil Kumble, Rahul Dravid, Venkatesh Prasad, Roger Binny, Robin Uthappa, and others. Karnataka has one of the strongest domestic cricket structures of any state in India. Karnataka is the second most successful Ranji Trophy team, having won eight titles.
While in college, he became friends with India's star batsmen KL Rahul and Karun Nair. Agarwal has enjoyed playing cricket since he was a child. During his high school and college years, he used to compete in cricket tournaments. He then joined the Cricket Academy, where he was taught the fundamentals of cricket by many domestic coaches. After playing a lot of cricket in high school and college, he was allowed to play domestic cricket in 2009. Agarwal began his cricketing career by competing in the Under-19 Cooch Behar Trophy in 2008-09.
Family Background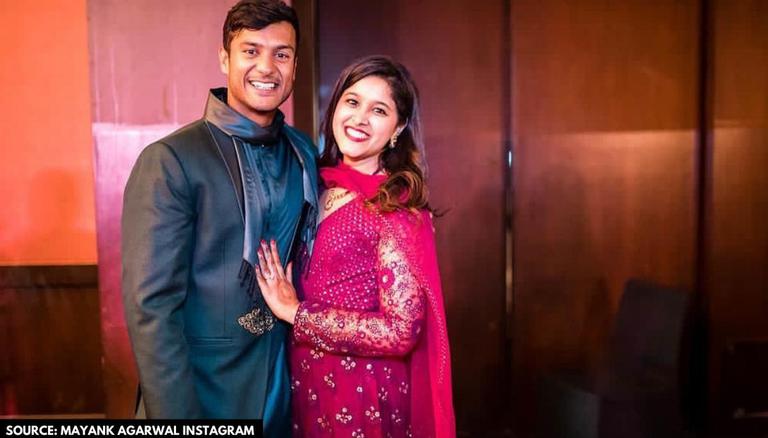 Father Name
Anurag Agarwal (CEO of Natural Herbal Company)
Mother Name
Savita Goyal Agarwal
Siblings
Raj Kishan Agarwal
Wife
Aashita Sood Agarwal
Children
Not Yet
Girlfriend Name
Aashita Sood
Marital status
Married
Marriage Date
4 June 2018
Affairs
Not Known
Nationality
Indian
Mayank Agarwal was born in Bengaluru to a prosperous Hindu Brahmin family. His entire family practices and beliefs in Hindu customs. He also believes in Hindu deities and worships them. Anurag Agarwal is the CEO of Natural Remedies, a health care company, and Mayank Agarwal is his son. The company's total net worth is estimated to be around $ 40 million. Savita Goyal Agarwal, Mayank's mother, is a housewife. Mayank has an elder brother named Rajkishan Agarwal, who was also a former state-level cricketer, in addition to his parents.
The marital status of Mayank Agarwal is married. On June 4, 2018, she married her college classmate Aashita Sood. Mayank does not yet have any children. Ashita Sood, Mayank Agarwal's wife, is the daughter of an Indian Police Service (IPS) officer.
Mayank Agarwal and Aashita Sood began as friends. Soon after, their friendship blossomed into love, and it was Agarwal who proposed to his partner romantically in London. They got engaged in January 2018 and married on June 4, 2018. Friends from the cricketing fraternity attended the cricketer's wedding ceremony, and his best friend KL Rahul was also present on the big day. Aashita is a lawyer by profession, and she has a master's degree in Intellectual Property Law.
Mayank Agarwal Net Worth Income & IPL Salary
Mayank Agarwal's net worth is estimated to be around INR 37 crore, according to sources. He charges around INR 4-5 Lakhs to play a test match for the Indian team. His primary sources of income are playing cricket for the Indian team and in the IPL.
Social Media Accounts & Followers
Education Background
Mayank was born in Bengaluru, Karnataka, and received his primary and secondary education there. He then completed his high school and intermediate exams at Bangalore's Bishop Cotton Boy's School. He came from a wealthy family, so to complete his education, he enrolled at Jain University, Bangalore's most expensive college. After receiving his degree, he began focusing on cricket, and as a result, he is now an international cricketer.
Mayank Agarwal Career & Stats
Domestic Career
In the 2017-18 Ranji Trophy season, he scored his first 300 in first-class cricket against Maharashtra. Mayank Anurag Agarwal also exceeded the 100-run mark in his first-class career. With 1160 runs in this trophy, he is also the leader in the run chart. KIXP has purchased Mayank Agarwal for the 2018 IPL season. He was also the leading run-scorer in the 2017-18 Vijay Hazare Trophy. In 2018, he was named to the India B squad for the Deodhar Trophy.
International Career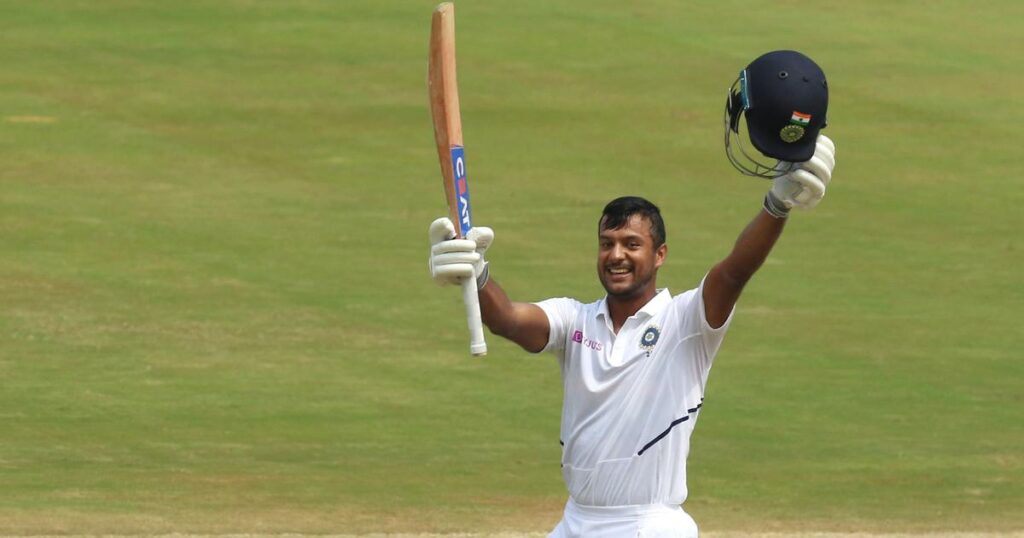 In September, his name was added to the Test squad for the 2018 series against WI. He did not participate in this series. Due to Prithvi Shaw's injury, he was kept in the squad for the series against Australia. On December 26, 2018, however, he made his first appearance for the test side, scoring 76 in his debut inning at the MCG. His name was also called up for the ICC World Cup 2019 in England. He scored his first century for India in a Test against South Africa in 2019, but he continued to bat well to convert this century into his first 200 runs in a test match for India.
Mayank Anurag Agarwal also scored centuries in back-to-back games against South Africa. In the test match against Bangladesh in Indore, he scored his second 200-run test innings. He was the second player in history, trailing only the Great Sir Don Bradman, to score two double hundreds in his first twelve innings. Mayank Anurag Agarwal made his first appearance for India in an ODI against NA on February 5, 2020.
FAQ (Frequently Asked Questions).
Q. What does Mayank Agarwal's father do?
A. Mayank Agarwal's father's name is Anurag Agarwal. He is the CEO of Natural Remedies, a health care company.
Q. What language does Mayank Agarwal speak?
A. Mayank Anurag Agarwal is an Indian cricketer from Bengaluru, Karnataka, who speaks Kannada.
Q. What is the age of Mayank Agarwal?
A. 30 years (16 February 1991).
Q. Is Mayank Agarwal married?
A. In June 2018, Mayank Agarwal married his long-term girlfriend, Aashita Sood.
You may also be interested in Varun Chakravarthy Net Worth-IPL Salary, Cars, Career, ICC Rankings, and Biography.
Conclusion:
Mayank Agarwal Net Worth 2021: Biography, Family, Girlfriend, IPL Salary, Career, and Other Facts We hope that this article has given you a better understanding of Mayank Agarwal's total net worth. We'd appreciate it if you could share your thoughts in the comments section below.