Do you know who is world fastest bowler? These are the top 10 active fastest bowlers in international cricket across all formats. Bowling fast is a form of art only a few can accomplish. In that case, it demands a massive amount of energy from the bowler's body. Striking one's ankle and knee over and putting yorkers over the course throughout one's cricket career results in a relatively short career for the faster bowlers, but they still have the greatest impact across all formats of cricket history.
Before the speed guns, like Mitchell Starc, Dale Steyn, and Brett Lee there were bowlers like Javagal Srinath, Wes Hall, Fred Trueman, Frank Tyson, and the West Indies quartet of Holding, Garner, Marshall, and Roberts who were faster than today's pacers. Australia's Jeff Thomson is widely regarded as the first genuine fast bowler in Test history with a speed of 91.9 mph, while Pakistan's Shoaib Akhtar was the first to officially break the 100mph barrier.
Cricket now has nearly 2 billion fans around the world. Cricket is one of the most popular sports in the world, and both bowlers and batsmen play an equal role. A great batsman is a reason enough to be afraid of a cricket team. However, it is also true that a fast bowler can score against even the best batsmen. This list is based on current bowler performance and is updated based on stats as of present international cricket active players. So, to stay up to date on the latest cricketing news. Keeping this in mind, we present to you the 10 current fastest bowlers in International cricket of the present day, along with their quickest recorded delivery.
Top 10 fastest bowlers in the world of International cricket (ODIs, Test, and T20I):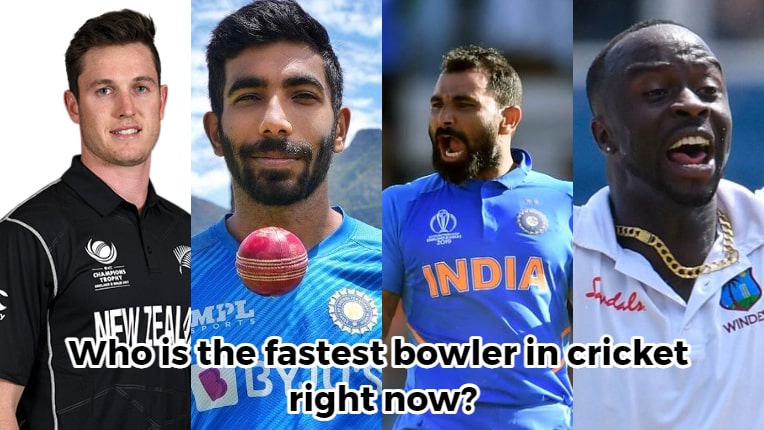 10. Pat Cummins- 151 Kmph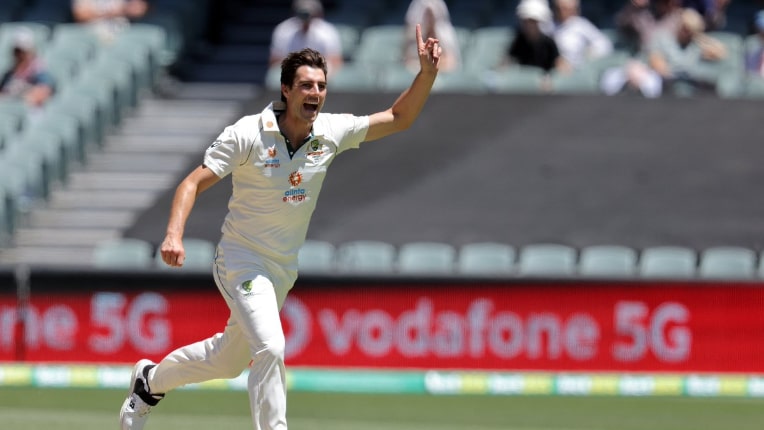 Pat Cummins, an Australian active fast bowler, had made a fantastic comeback into Test cricket after missing out on 5 years of his career, which he had begun so promisingly against South Africa in 2011 at the age of 18. Due to a back injury, he had surgery and intensive rehabilitation in Australia before playing his first game in 2015. He was back in full swing in 2015, and he made his Test debut against India in 2017, which proved to be a watershed moment in his career, as he bowled as fast as he did in his debut series, and he got the purchase out of dead Indian wickets. This also demonstrated his fitness to the Australian selectors, who now have a replacement for Mitchell Johnson as the leader of the Kangaroos' bowling attack.
Pat Cummins' fastest ball was clocked at 151 kmph, but he has consistently bowled in the 150 kmph range regardless of the surface. Cummins has firmly established himself as the best bowler in the world, and the ICC rankings back him up, as he is the current fastest bowler in International cricket.
9. Umesh Yadav- 152.5 Kmph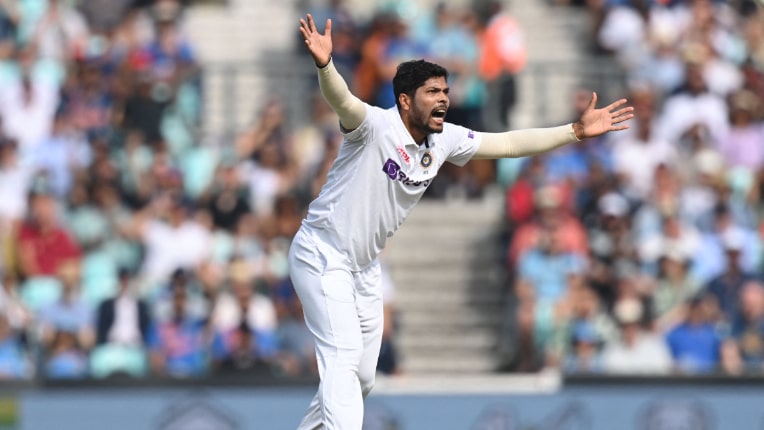 Umesh Yadav is a cricketer from India who currently plays for the Vidarbha team. He is one of India's fast bowlers who is expected to deliver big for the country, recording the third-fastest delivery by an Indian. Despite being a one-ball wonder, he regularly exceeds 150 kmph. Umesh Yadav bowled the fastest ball 152.5 Kmph on the speed gun during an away ODI series in Sri Lanka. He is one of only a few Indian bowlers to reach 150 kmph. Umesh Yadav bowled a 152.5 kmph fast delivery to Tillakaratne Dilshan. He and Jasprit Bumrah are two of the few Indian bowlers who consistently bowl around the 140 kmph range.
Umesh Yadav is not only a fast bowler but also durable, as he has demonstrated a proclivity for bowling long spells without slowing down, particularly in Indian conditions. He is an important member of the Indian team in longer formats and has even made his way into the limited-overs team after some strong performances in domestic cricket.
8. Kemar Roach- 152.7 Kmph
Kemar Roach is a West Indian international cricketer from Barbados. Roach, a 5-foot-8-inch tall fastest bowler, is capable of express speeds and has achieved 150 kmph (93 mph) on several occasions. Kemar Roach is currently the 8th fastest active bowler in international cricket. In 2012, he became the first West Indian bowler since 2005 to take ten wickets in a Test. Given the unfortunate situation with the West Indies team over the last decade or so, Kemar Roach has often flown under the radar despite his talent. Since his debut in 2008, he has been one of the best and fastest bowlers in the world.
Kemar Roach has a spikey action that allows him to generate tremendous ball speed from a short runup, and he has stayed in good shape for a fast bowler his entire career. His fastest ball came in the 2015 ICC World Cup, when he sent down a 152.7 kmph spear, securing his place among the world's fastest bowlers. He regularly clocks high 140 kmph speeds and is still going strong, carrying the West Indies pace attack and assisting the team's young guns out there.
7. Mohammed Shami- 153.2 Kmph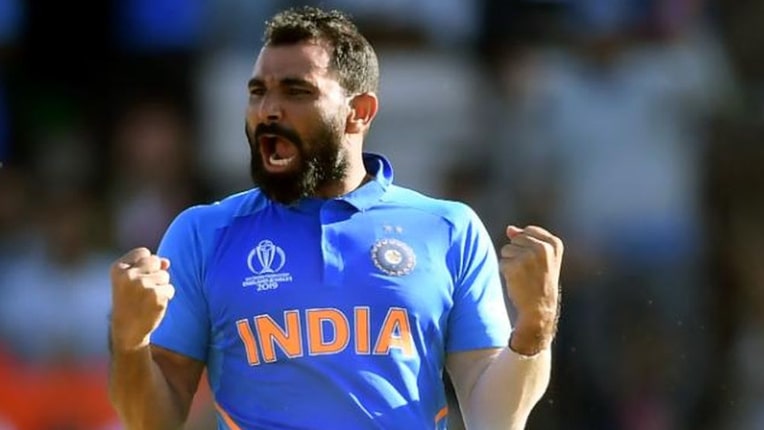 Mohammed Shami is the current Indian fastest bowler in cricket. He plays as a bowler for the Indian national cricket team in all formats. Mohammed Shami, India's most successful bowler, has been a key player in the country's recent success in all three formats of the game. The right-arm pacer from Bengal has impressed the cricketing elite with his lethal pace, consistency, and ability to take timely wickets.
Mohammed Shami bowled the fastest ball against Australia in the third Test match of the four-match series in 2014 at Melbourne Cricket Ground. Mohammed Shami set a new record for the fastest delivery at 153.2 kmph. Despite the game ending in a draw, Shami emerged as India's leading wicket-taker with 6 wickets in the Melbourne Test. Mohammed Shami toured Australia for the first time in 2014-15 after making his debut against Pakistan in January 2013. However, it was not a huge success. Despite taking 15 wickets at an average of 35.80 in three Tests, he was India's leading wicket-taker.
6. Jasprit Bumrah- 153.26 Kmph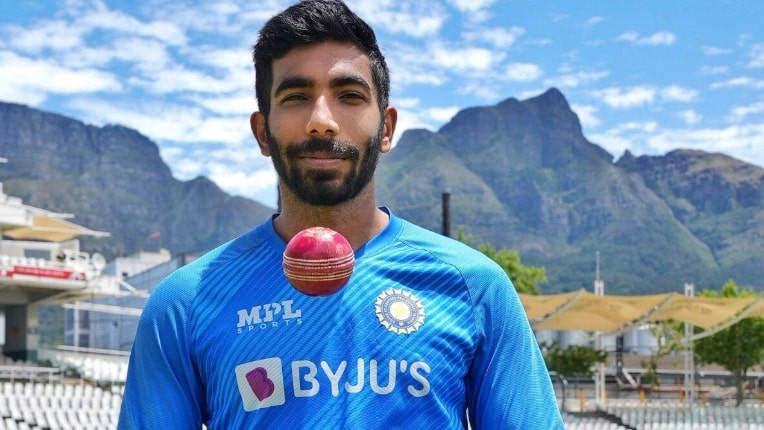 Jasprit Bumrah is a right-arm fast-medium bowler who represents India. He is well-known for his fast-paced bowling style and vicious in-swinging yorkers. Jasprit Bumrah is one of the best fast bowlers in modern cricket, having dominated almost every opponent he has faced thus far. The fast bowler always adapts to the conditions in which he plays, making him one of the most successful pacers in the game's history.
Jasprit Bumrah is also well-known for his unusual bowling motion. Jasprit Bumrah ranks fourth among Indian bowlers in terms of speed. Bumrah regularly bowls at speeds more than 140 kmph. During the first Test against Australia in Adelaide in 2018, Bumrah clocked a 153.26 kmph delivery. Bumrah was the Indian cricket team's wrecker-in-chief in the Border-Gavaskar Trophy, taking 21 wickets in four matches at an impressive average of 17. Jasprit Bumrah became the first Asian bowler to take five wickets in Tests played in South Africa, England, Australia, and the West Indies. He added a Test hat-trick against the Windies to his already impressive list of achievements.
5. Adam Milne- 153.2 Kmph
Adam Milne is a cricketer from New Zealand. He is a member of the New Zealand national cricket team and plays limited-overs cricket. He bowls fast with his right arm. Adam Milne of New Zealand is currently one of the fastest bowlers on the circuit. Milne has been out of action for quite some time, competing for a spot in the New Zealand team alongside Lockie Ferguson, Tim Southee, and Trent Boult. After Shane Bond, some of the cricket pundits added him to New Zealand's current fastest bowlers in the international cricket list. He consistently clocked speeds in the 145-150 kph range.
Adam Milne, a young and promising fast bowler, was impressed during the Champions League in 2010 when he bowled with verve and passion for Central Districts. As an 18-year-old, he made a strong First-Class debut, taking 4/52 against Canterbury. Adam Milne recorded his fastest bowling speed of 153.2 kph in a T20I against the West Indies at Eden Park. This was the second-fastest delivery by a New Zealand fast bowler, trailing only Shane Bond. Milne has fallen down the pecking order for international cricket due to injuries and form issues. He has 73 wickets in 71 international matches (ODIs + T20I) so far, and he has not played any Test match.
4. Mark Wood- 154 Kmph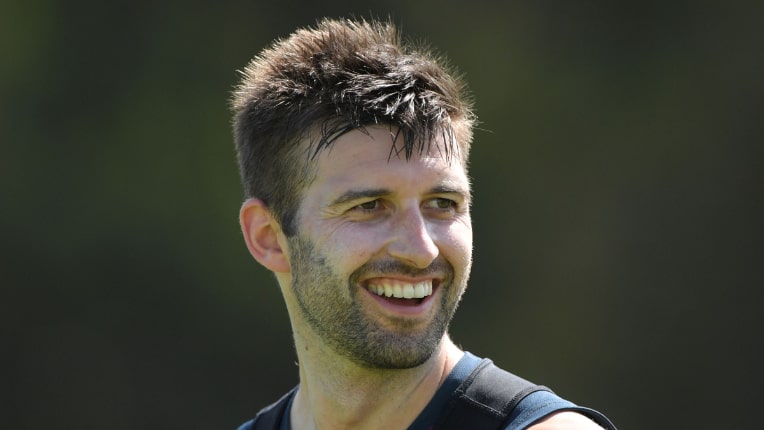 Mark Wood is an English cricketer who represents his country in all formats. He was a member of England's World Cup-winning squad in 2019. Wood bowls right-handed and is one of the fastest bowlers in the world, with an average Test pace of 89 mph from 2020 to the present. Despite his injuries, he has used his pace to trouble the opposition batsmen. His ability to generate extra speed has aided him in improving his bowling.
During the ICC World Cup 2019 final against New Zealand, English fast bowler Mark Wood bowled the fastest delivery of the tournament. Mark Wood bowled a 154 Kmph (95.7mph) delivery to Henry Nicholls, tying him with compatriot Jofra Archer and Australia's Mitchell Starc for the fastest delivery. His ability to generate Pace even on slower tracks has wowed everyone. Mark Wood has improved his fitness over the last three years and is now able to bowl with more pace since his comeback in 2019.
3. Wahab Riaz- 154.5 Kmph
Wahab Riaz is one of Pakistan's most underrated fast bowlers. He can bowl quickly and swing the ball menacingly at that speed. He can bowl a mean bouncer with that round-arm delivery action, and it's only a lack of consistency that has kept the left arm from accomplishing great things for the team. Wahab Riaz's breakthrough came during the ICC World Cup 2015 in Australia and New Zealand, specifically in the quarter-final match against Australia, when he bowled perhaps the most fearsome and fastest over ever seen in ODI cricket to Shane Watson, bringing his team back into the game. He hit Watson a few times and bounced him out.
Wahab Riaz's fastest ball came against India earlier in the tournament, when he bowled a 154.5 kmph thunderbolt. He frequently bowls at speeds of around 90 miles per hour. Also, he has reached 96 miles per hour, making him the third-fastest bowler in International Cricket.
2. Jofra Archer- 155 Kmph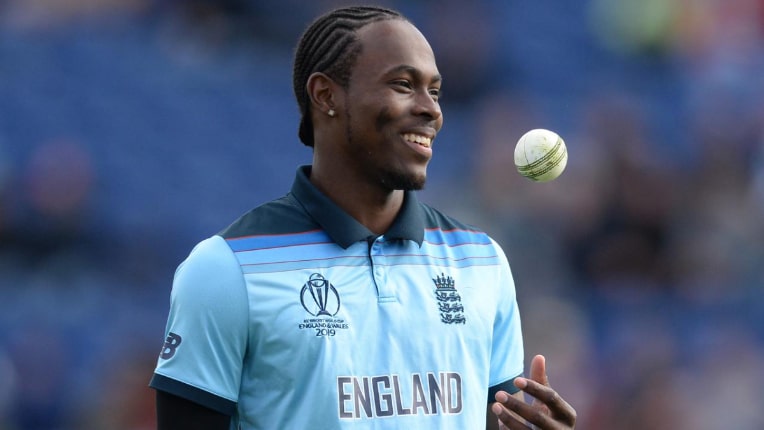 Jofra Archer is the second-fastest speed bowler in international cricket across all formats, clocking in at 155 kmph. Archer has taken the world by storm since his pace and bounces caught English county cricket off guard. Archer has also taken the Indian Premier League by storm with his performances for Rajasthan Royals on dead pitches. He made a significant contribution to England's first World Cup victory, particularly in the final match against New Zealand.
However, Jofra Archer has impressed the best of the best in his short career with his ability to generate a serious pace and bounce from a relatively stress-free bowling action, and something sinister was on display when he made his England debut in the Ashes 2019 against Australia. He began with a tickler at 88.3 mph (142 kmph) at Lord's in London. He quickly increased his bowling speed to 93.7 mph (151 kmph) and finished with a flash-like 96.1 mph (155 kmph).
The highlight of that match was Archer's first-innings dismissal of star Australian batsman Steve Smith with a vicious bouncer that hit the batsman on the back of the head and forced him to miss the Lord's Test and the next Test due to concussion issues. Jofra Archer is the current fastest bowler in International cricket.
1. Mitchell Starc- 160.4 Kmph
Australia's left-handed sharpshooter Mitchell Starc has taken over from Mitchell Johnson, who retired in 2015. The current fastest bowler in international cricket is known for his incredible ability to bowl yorkers at will. His average speed is usually in the high 145 kmph+ range. He has been known to hit the fastest ball of 160 kmph a few times. Mitchell Starc's fastest ball came during a Test match against New Zealand at the WACA in Perth when he delivered a 160.4 kmph delivery to Ross Taylor, who was batting at 140. Starc has taken the most wickets in the World Cup two years in a row. Also, he was named Player of the Tournament when Australia won the trophy at home in 2015.
In recent years, he has been regarded as one of the best fast bowlers in the world. The left-arm pacer is also one of few bowlers to take two hat-tricks in a single first-class match, which he did in the 2017/18 Sheffield Shield match between New South Wales and Western Australia.
Conclusion
We hope you enjoyed our article on the who is world fastest bowler. Please drop your thoughts and opinions in the comment box below. The source of information about the current fastest bowlers in international cricket is from ESPNcricinfo and Wikipedia. Since the topic is subject to change, our website (crickettipmaster.com) makes no guarantee for the accuracy of the data.