The Board of Control for Cricket in India (BCCI) has finally announced the official team India squad for the much-anticipated T20 World Cup 2021. The T20 World Cup will be held in the United Arab Emirates, in what is likely the biggest official announcement for Team India since the 2019 World Cup. The ICC Men's T20 World Cup begins on October 17 to November 15, 2021. There aren't many surprises in the lineup, with Virat Kohli leading India and Rohit Sharma serving as his deputy. Shikhar Dhawan, who led the Men in Blue on their Sri Lanka tour, did not make the 15-man squad, so KL Rahul will open the innings alongside Rohit Sharma. MS Dhoni has been appointed as the team's World Cup mentor.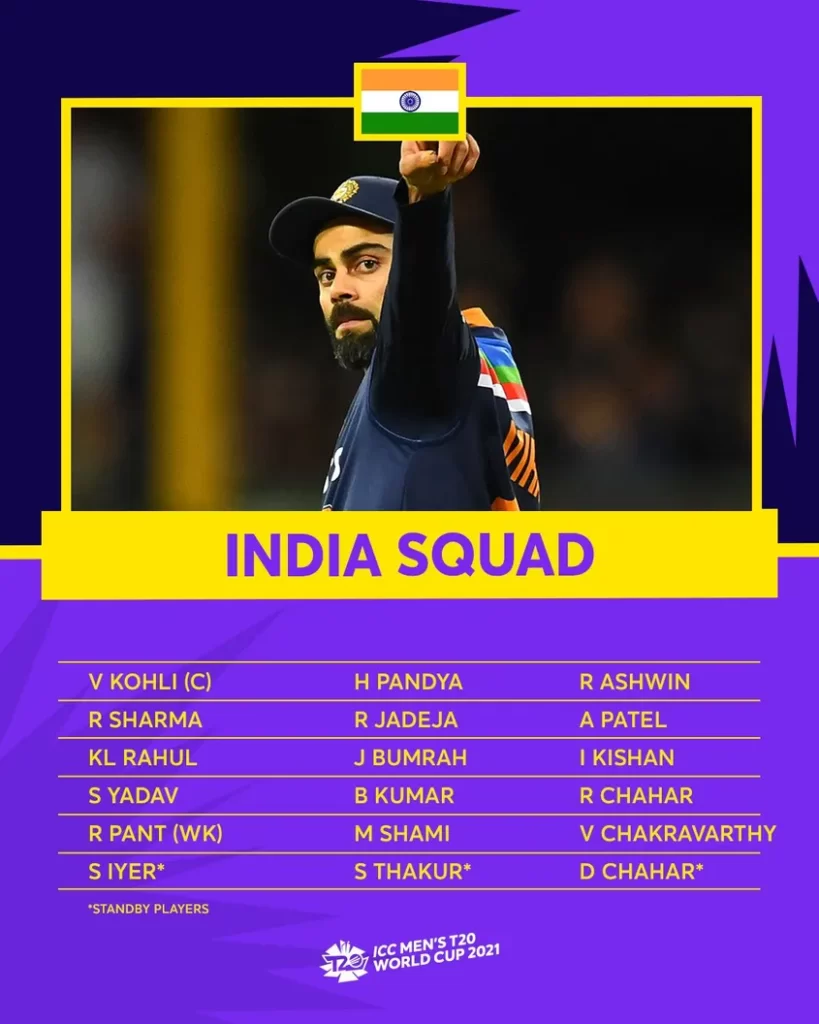 Qualifiers will be held in Oman and the UAE from October 17 to October 22, 2021. Based on the ICC T20 Team Rankings as of March 20, 2021, a total of 8 teams have already qualified.
Team India Squad For ICC T20 World Cup 2021
Virat Kohli will continue to lead the Men in Blue. Rohit Sharma has been named vice-captain. Rishabh Pant will be the team's first-choice wicketkeeper. The BCCI announced India's squad for the upcoming ICC T20 World Cup 2021.
Due to the COVID-19 contingency, BCCI has announced an official 15-member squad with 3 reserves. The roster is made up of 6 batsmen, 3 all-rounders, 3 spinners, and 3 pacers. One pace-bowling all-rounder and 2 spin-bowling all-rounders are among the 3 all-rounders. There are 2 official wicket-keepers and 1 backup wicket-keeper in the squad.
While the overall squad appears to be quite effective for the T20 World Cup, there are a few unexpected or even shocking elements. So, here is a full breakdown analysis of Team India's squad for the T20 World Cup 2021. To gain a better understanding, we will break down the squad into different categories i.e- Openers, Middle-order, Spinners, & All-rounders.
Updated Team India Squad For T20 World Cup 2021
Virat Kohli (Captain), Rohit Sharma (vice captain), KL Rahul, Suryakumar Yadav, Rishabh Pant (wk), Ishan Kishan (wk), Hardik Pandya, Ravindra Jadeja, Rahul Chahar, Ravichandran Ashwin, Axar Patel, Varun Chakravarthy, Jasprit Bumrah, Bhuvneshwar Kumar, Mohd Shami.
Team India Openers For ICC T20 World Cup 2021
In the opening position, Team India has chosen the well-known duo of KL Rahul and Rohit Sharma as their first-choice openers. Ishan Kishan, the attacking wicket-keeper batsman, provides support for these two. The Jharkhand-born keeper has been rewarded for his outstanding performances for Team India and in the IPL 2020.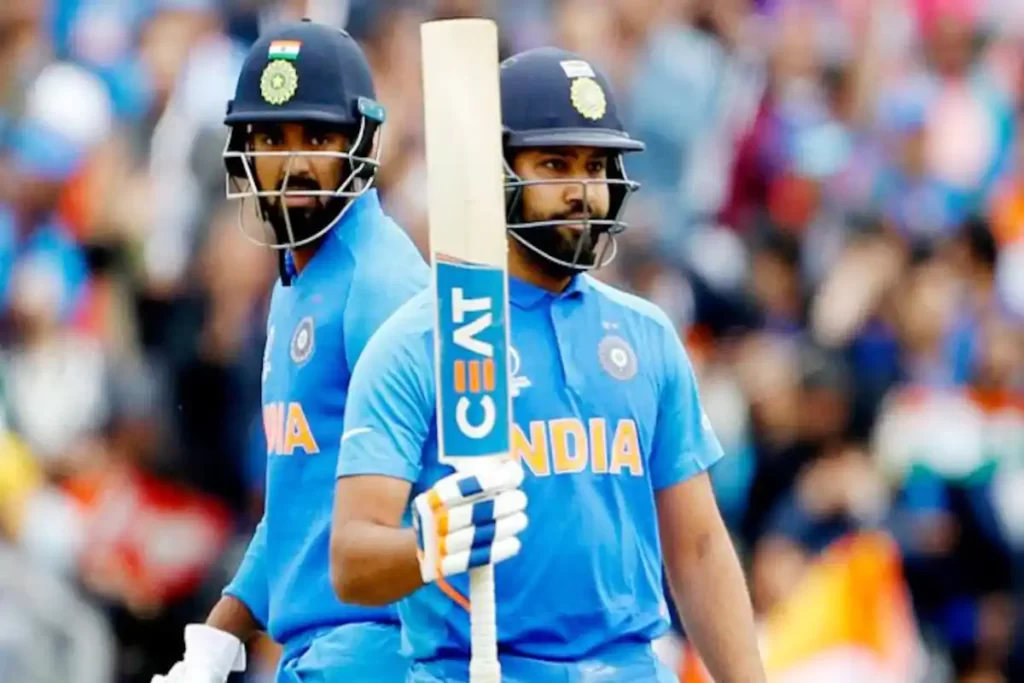 The biggest omission in the openers category, however, has been Shikhar Dhawan. The southpaw recently captained India on their limited-overs tour of Sri Lanka, and he has been one of the best openers in the IPL over the last two years. However, he is surprisingly left out of the squad for T20 World Cup.
Middle-Order Batting Lineup For ICC T20 World Cup 2021
Skipper Virat Kohli, the dynamic star Suryakumar Yadav, and Team India's first-choice wicket-keeper Rishabh Pant are in the middle order. There were no surprises that all three were in the running for a spot. In fact, all three of them have a strong chance of making the final 11.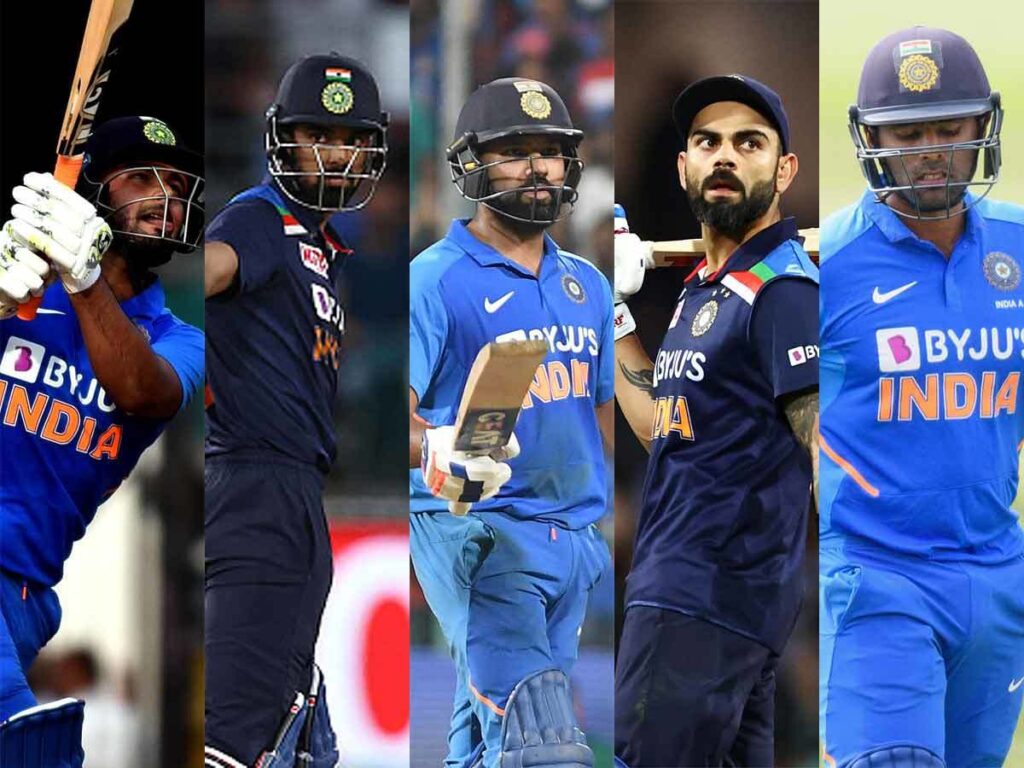 Shreyas Iyer, on the other hand, has been a major omission from the middle order due to his injuries. Although Shreyas Iyer is still in the reserves, he has been a regular for Team India in limited-overs cricket. However, given the return of the injury and the lack of match practice, Team India may have decided to keep him in the reserves for middle-order.
Team India's All-rounders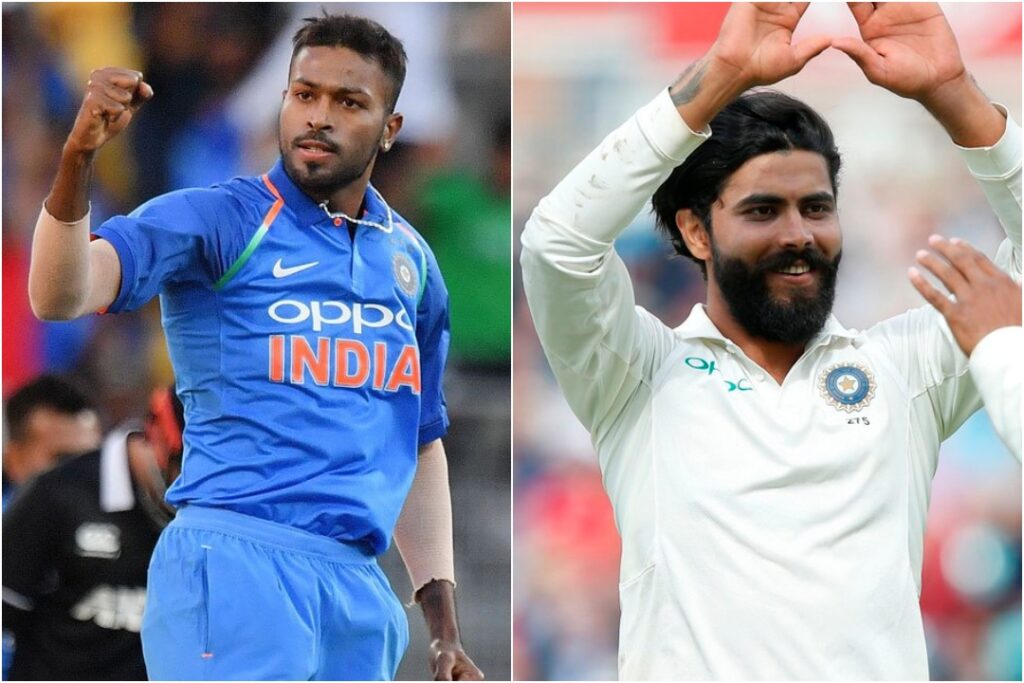 The all-rounder category appears to be a huge surprise. While Hardik Pandya and Ravindra Jadeja are undoubtedly Team India's first-choice all-rounders, Axar Patel's inclusion is puzzling. Axar Patel might not have made it if all-rounder Washington Sundar had not been injured at the time.
Spin Bowlers Of Team India's Squad
The dismissal of Team India's best spinner since 2018, Yuzvendra Chahal, is arguably the biggest surprise in the T20 World Cup squad. The exclusion is beyond comprehension, as a regular member of Team India's starting lineup has been shockingly omitted.
Yuzvendra Chahal isn't thought to be good enough to beat even one of India's top spinners. Team India has placed their trust in Rahul Chahar's leg-spin and Ravichandran Ashwin's off-spin instead. While Rahul Chahar has been a standout for Team India and the Mumbai Indians, the inclusion of Ashwin is perplexing. Ashwin hasn't played a T20 match in over four years and he has also struggled in the IPL over the last three to four years.
The inclusion of Ashwin in the squad is perplexing as he hasn't played T20 cricket for four years. The only reason for Ashwin's inclusion is the lack of an off-spinner in the absence of Washington Sundar. The inclusion of the mystery spinner, Varun Chakravarthy, is the big news in the spinner category. The youngster has been outstanding in the IPL and has the potential to be Team India's trump card in the T20 World Cup. Looking at the team, Varun Chakravarthy is definitely one of the players who could make the final playing 11.
Pace Bowlers For T20 World Cup
The pace department appears to be the only place where things are going as planned. Team India has opted for the tried-and-true combination of Jasprit Bumrah, Bhuvneshwar Kumar, and Mohammed Shami. If the pitch is conducive to pace bowling, Team India may be compelled to field all three in the lineup. So there are no complaints about the pace.
Furthermore, Team India has backup reserves in the form of Shardul Thakur and Deepak Chahar, which is fantastic. Shardul and Deepak have both been in good form with the ball in T20 cricket and are both excellent lower-order batsmen. If an extra pacer is required, one of Deepak Chahar or Shardul Thakur will step into the squad.
T20 World Cup 2021 – Team India's Official Squad List
| Batsmen | All-rounders | Bowlers | Captain | Vice-Captain | Mentor |
| --- | --- | --- | --- | --- | --- |
| Virat Kohli | Hardik Pandya | Bhuvneshwar Kumar | Virat Kohli | Rohit Sharma | MS Dhoni |
| Ishan Kishan(WK) | Ravindra Jadeja | Jasprit Bumrah | | | |
| KL Rahul (WK) | Axar Patel | Mohammed Shami | | | |
| Rishabh Pant (WK) | | Rahul Chahar | | | |
| Rohit Sharma | | Ravichandran Ashwin | | | |
| Suryakumar Yadav | | Varun Chakravarthy | | | |
Team India's Complete Schedule, Fixtures & Venue Of ICC T20 World Cup 2021
24th October 2021: India vs Pakistan, 7:30 PM IST, Dubai
31st October 2021: India vs New Zealand, 7:30 PM IST, Dubai
3rd November 2021: India vs Afghanistan, 7:30 PM IST, Abu Dhabi
5th November 2021: India vs B1 (qualified team), 7:30 PM IST, Dubai
8th November 2021: India vs A2 (qualified team), 7:30 PM IST, Dubai
You might be interested in knowing Deepak Hooda's Net Worth – Income, IPL Salary, Career, Car Collection, House & Lifestyle.

Conclusion:
So there you have it: Team India's squad list for the T20 World Cup 2021. With the exception of a few players, there isn't much to complain about. However, the squad has a lot of potentials, and Team India can go a long way in the tournament. We hope that this article has covered everything you need to know about Team India Squad For T20 World Cup 2021.
Source- ICC-Cricket.com